Alien
Spy

Alien Spy Series
The Alien Spy series combines kids' favorite themes to create an intriguing 3D environment for 8-12 year olds. As Schlock, a member of an alien race attempting to infiltrate earth, you must learn a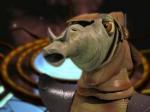 profession in order to blend in.

The quirky Alien Trainer leads Schlock, the trainee, through a range of exciting missions and tests designed to equip him/her for the specific vocation that will be their disguise on earth.

The series is designed by teachers, to improve literacy. Each title features a different popular career. Shown here, Alien Spy - Go Under Cover as an Archaeologist. Other professions include: marine biologist, and forensic scientist.

Developed with the assistance of the Cinemedia - Multimedia 21 Fund


Features:
The Interro-Pod is where Schlock,the player, is grilled for information. Hundreds of random fast-fired trivia questions test knowledge of life on earth. According to the Alien Trainer, "either you sizzle or we roast you". Enough said.
In the Krypto-Pod, Schlock has three goals - 1. stay alive, 2. solve the mystery, and 3. keep the treasure intact. Schlock must follow the clues and choose the path of the story. With over 30 possible solutions, not all of them safe, only the best trainees succeed.
Skulls of the Dead game demands first class reflexes, speed and skill to bury the skulls in the tomb, whilst destroying the bad skulls before they turn into Schlock-eating Skull Stalkers. Arrggh!
The Digi-Pod, is an earth simulation unit in which the trainee is provided with dozens of fascinating projects to help understand life on earth.
System Requirements:

Pentium 90
Win 95/98
CD ROM
Internet connection optional